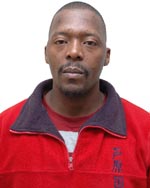 Born 25 December 1976. Started with Kyokushin in 1988. In 1997, he joined Ashihara Karate under the late Mathokoza Dlamini. In 1997 and 1998, he competed in the Sabaki Challenge Championships in Cape Town. After the untimely passing of his teacher, he took over the reigns of Ashihara Karate as a green belt student. Despite the sayings of other groups about quitting the style, he persevered and today, Ashihara karate is the most organised style in the country.
In 1999, he started working for Swaziland Post and Telecommunications as a storekeeper and in 2000 was promoted to be a purchasing clerk. In 2002, he opted to make karate his profession, and since then he has been a full time instructor. He is the only professional martial arts instructor in the country.
Currently he serves as the country representative for Ashihara Karate and under his leadership, the style has grown to become the largest in the country.